Which player amazed Ruud Van Nistelrooy with the cards he received from well-wishers at Albion?
Who disappointed Sir Bobby Charlton by embarking on his Hawthorns dream?
And who reveals tales of splattering sausages up walls and a foreign trip for which he and another Baggies high-achiever feared a dressing-room dressing-down?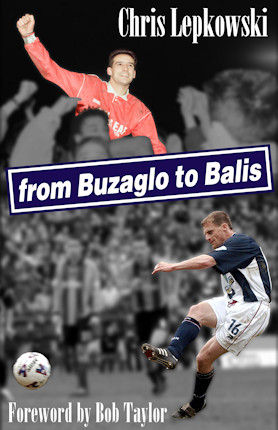 "A brilliantly researched, wonderfully written examination of a rollercoaster period in West Brom's history, from one of the authorities on this great club. Amusing, emotional and insightful."
- John Percy, The Telegraph
"The honesty and candidness throughout ensures this isn't just a nostalgia trip for Baggies' fans, but an enlightening read that will appeal to football supporters of all allegiances."
- Daz Hale, BBC Radio WM
"A fabulous read. So well researched, fascinating interviews with characters at the time. I thought I knew most of what was happening back then at Albion working on the patch, but reading this book tells me I actually knew very little."
- Nigel Pearson, talkSPORT
Chris Lepkowski's new book, From Buzaglo To Balis, reveals all and much more on a journey of around 240 pages that tells the stories behind the headlines – and writes some dramatic new ones.
This is the prequel to the highly successful, twice-reprinted In Pastures Green that the former Birmingham Mail reporter wrote in 2012.
And it's not just the players he has spoken to for a brilliant follow-up that homes in on Hawthorns life of the 1990s and early 2000s... the coffins at Shrewsbury, the joy at Wembley, the relegations and promotions, the escapes and near misses, and the endless boardroom bickering that drove managers to breaking point and chief executive John Wile to the brink of walking out.
The author reveals which Albion manager survived a plane crash and which one was prematurely 'killed off'. He also tells us why we have been spelling the name of one high-profile player wrong all these years and of the legendary England international who refused to come to The Hawthorns because of a boardroom leak to the press.
Anyone who enjoyed In Pastures Green will love this hardback, too; extensive exclusive interviews with Ossie Ardiles and Gary Megson are among the 13 prized chapters, which also include head-to-head chats with Craig Shakespeare, Darren Bradley, Daryl Burgess, Enzo Maresca, Alan Miller, Denis Smith, Paul Thompson and John Wile, Adam and James Chambers, Jason Roberts, Woking's reluctant hat-trick hero Tim Buzaglo and, of course, penalty ice-man Igor Balis.
From Buzaglo To Balis, like Chris's previous such project, has been published by Shareholders for Albion, priced £18.99 and containing 16 pages of stirring photos. Its local roots are underlined by the author being a West Bromwich-bred Albion supporter who covered their fortunes home and away for almost a decade and a half.
To order your copy using a credit card, debit card or PayPal account, just click the Order button at the top of the page - and if you have any questions, please click the Contact button and send us a message.